Optimize product images with cutting-edge, precision clipping path services
Affordable-price, High-quality and Fast.
Top-notch clipping path services cater to eCommerce, brands, media, retailers, and photographers, ensuring visual excellence for all.
Your Trusted Photoshop Clipping Path Service Provider Company
This company offers high-quality clipping path service and manual Photos editing.
Check out some of our completed files used by our clients. We aim to create images that can have a positive impact on your business.
WHY CHOOSE CLIPPING DESIGN HOUSE
Competitive Price
Striving for top-notch quality, we offer budget-friendly solutions, ensuring accessibility for businesses and maintaining excellence in photo clipping path service.
Exceptional Quality
Our commitment is to deliver top-tier quality. A team of adept graphic designers ensures the utmost precision for your images.
Customized Solutions
Customized solutions cater to diverse image needs—simple or intricate. Expertise ensures precise handling of your unique requirements.
Quick Turnaround Time
Efficiency and quality drive our image editing process, ensuring timely delivery. Your time matters; expect prompt, high-quality results.
Pixel Perfect Results
Clipping Design House values not just speed but also emphasizes superior photo edits for lasting client impact.
E-commerce Optimized
Over the past decade in e-commerce, we've mastered high-quality clipping path services, streamlining business goals, and reducing communication hurdles.
Our team of skilled professionals offers photo editing services, focusing on retouching, colour correction, and creative effects to elevate your images and bring your vision to life.
Utilizing Photoshop's Pen Tool ensures precise clipping paths, effectively eliminating backgrounds. Our adept designers rely on this tool, ensuring flawlessness in object outlines. Experience our top-tier Clipping Path service, which specializes in flawless backdrop removal.
Easy Clipping Path
Medium Clipping Path
Advance Clipping Path
Background Removal
Clipping Path and Photoshop Masking, ideal for background removal, albeit time-consuming and intricate, demands skilled hands. Are we entrusting the removal of the background to Adept Designs? Clipping Design House has experienced professionals available for this work.
Easy Removing

Medium Removing

Complex Removing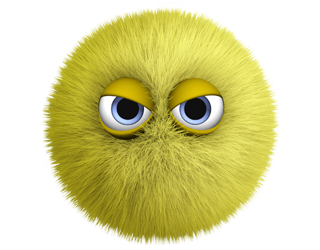 Image Masking
When it comes to photo editing, a simple clipping path is not enough. We apply Photoshop masking. This technique excels at removing backgrounds and subtle, complex visuals—hairy dolls, haircuts, or complex leaves.
Layer Masking
Hair Masking
Alpha Masking
Photo Retouching
After capturing, photos often demand meticulous post-editing to truly capture. Our adept team excels at flawlessly enhancing visuals, ensuring top-notch retouching is tailored precisely to each client's unique specifications.
Model Retouching
Product Retouching
Jewelry Retouching
Shadow Creation
Clipping Path assists entrepreneurs and photographers in creating realistic shadows and reflections in photos, requiring artistry, freeing time, and directing energy for diverse pursuits.
Drop Shadow
Natural Shadow
Reflection Shadow
Raster to Vector
Clipping Design House provides affordable Illustrator design services for comprehensive brand establishment, including logos, business cards, banners, brochures, and campaigns, before website development.
Logo Design
Banner Design
Business Card Design
Ghost Mannequin
The Photoshop ghost mannequin effect is a crucial tool for showcasing apparel without models in the digital e-commerce landscape, allowing professionals to render garments devoid of human presence.
Neck Joint
Wrinkle Remove
Symmetric
Color Correction
Photographs demand meticulous color refinement, vital for equilibrium and visual allure. Employing adept Photoshop techniques ensures flawless, stunning imagery. Our service guarantees superior, precise color correction.
Model Color Correction
Clothing Color Correction
Jewelry Color Correction
Photo Restoration
Restoring digital photos involves reviving damaged copies due to natural, human-made, or environmental factors. Ageing or neglect impacts these images, prompting restoration efforts for their revival.
B&W photo colourization
Damaged Photo Restoration
Restore and reassemble missing pieces
Ecommerce Entrepreneurs
Product images are crucial for e-commerce businesses to attract customers, remove distractions, and increase sales and conversions by ensuring product focus.
Photographic Studios
Photographers enhance images using clipping paths for weddings, fashion, and portraits, crafting professionally polished outcomes with precision.
Graphic Design Agencies
Design agencies leverage clipping paths for compelling visuals in branding, marketing, and ads, adeptly manipulating images for visual allure.
Print Publications
Print media thrives on engaging visuals. With clipping path services, layouts seamlessly match images and text to captivate readers.
Fashion Industry
Clipping paths, pivotal in fashion, elegantly exhibit designs. Precise cuts showcase models and products against diverse backgrounds, enhancing presentation.
Social Media Influencers
Social media thrives on visuals; influencers leverage clipping path services for eye-catching, brand-boosting posts that resonate with followers.
Clipping Path Pricing
Photo editing service price list
Simple Clipping Path———– $0.15
Medium Clipping Path——— $0.69
Complex Clipping Path——– $1.39
Photoshop Shadow Services
Drop Shadow—————- $0.25
Natural Shadow———— $0.39
Reflection Shadow——– $0.45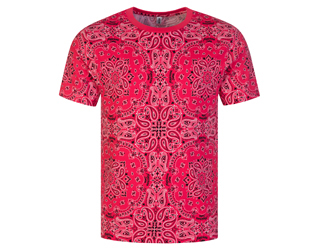 Neck Joint———————– $0.59
Medium Mannequin——— $0.99
Wrinkles Remove————- $0.40
We have laid out four steps to get your job done efficiently and affordably.
Request a Free Trila
You can judge the quality of our service by submitting a FREE-TRIAL before ordering. Send us 02 sample images and get the completed images within an hour.
Upload Your File
You may transfer your files via numerous uploading techniques such as Wetransfer, Dropbox, Google Drive, FTP, and so on.
Editing Your File
Our designer will start working according to your requirements by getting the file. We will check each image's four steps before sending you done files for accuracy.
Download Editing Images
Once your photo is ready, we'll send you the file, please download it. You can start executing QUOTATIONS OR ORDERS if you approve our free trial work.
Clipping Design House
 High-quality Clipping Path service for E-commerce Solutions
Common Image Editing Techniques for E-commerce
Background Removal and Clipping Path
Strategically stripping backgrounds off product images unveils versatile visuals, isolating subjects for enhanced presentation across diverse platforms and contexts.
Image Retouching and Enhancement
Image retouching, a process to rectify flaws, contrasts with enhancement, which accentuates brightness, contrast, and color balance for profound visual improvement.
Color Correction and Adjustments
Maintaining brand integrity mandates consistent colours in product images, a pivotal factor for reinforcing consumer trust and recognition.
Ghost Mannequin and Apparel Retouching
For apparel sellers, ghost mannequin editing creates a hollow effect, displaying the garment's fit without a model.
Impact of Enhanced Images on E-commerce Sales
Optimized visuals heighten engagement, boosting sales. Research confirms polished product displays yield superior conversions, warranting investment in adept image enhancement techniques.
We are now offering free trials to judge our quality and service.
Clipping Design House
 High-quality Clipping Path service Providers For Photographers
Photography, a complex art, demands meticulous post-production adjustments for specific goals. The clipping path service empowers photographers to make perfect use of visuals by isolating subjects and removing backgrounds.
A clipping path, an exact delineation encircling an image element, serves as a mask, empowering photographers to disengage subjects from backgrounds and unlocking a myriad of editing avenues and creative potentials.
Benefits for Photographers
Enhancing Creativity
Through clipping paths, photographers gain creative freedom, crafting standout images by experimenting with diverse backgrounds and settings for unique visual narratives.
Achieving Precision
Navigating complex terrain—products or wildlife—demands precision. Photographers rely on clipping paths for intricate details, ensuring pixel-perfect finesse.
Saving Time and Effort
Photographers, instead of tedious manual selection, leverage clipping path services—quick object outlines—to reduce editing time, increasing efficiency in a seamless workflow.
Clipping Design House
Experience the Difference with Clipping Design House
Clipping Design House champions image editing's power: enhancing brands, skyrocketing sales, and captivating audiences. Our top-tier Clipping Path services aim to surpass expectations, delivering unparalleled, high-quality results.
Contact us today to discuss your image editing requirements and let us demonstrate our expertise in delivering top-quality clipping path services. Trust Clipping Design House as your reliable partner for all your image editing needs.
FAQ
Frequently Asked Questions
What is Clipping Design House?
Clipping Design House offers excellent picture editing services online. We work with retailers, photographers, and e-commerce companies. Clipping Design House can assist you if you have some photographs that need to be edited. We offer a low-cost picture editing service 24 hours a day, seven days a week. We always meet our clients' deadlines. We will provide your file within 24 hours or less if you send it to us.
What is the best way to choose a photo editing service provider?
Consider the agency's experience, expertise, sample work, and turnaround time. You may try them out for a "free trial" to see how they work.
Can I make my photo more uniform for an e-commerce brand?
Of course. Our team will help you improve your e-commerce webshop photos, which are used on Amazon, eBay, Shopify, and Band websites.
How long does it take to deliver my order photos?
Editing time is determined by the image quality, quantity, and amount of intricacy. Our standard turnaround time is 24 hours. It can take us 24-72 hours to complete a large job (3000+).
What if I am dissatisfied with the quality of my work?
Our designers are constantly working to give high-quality Clipping Path services. If you are dissatisfied with the quality, we will make the necessary changes and send them to you at no cost. You may still get your money back if it falls short of your expectations.
How does it Work?
Upload your files to Wetransfer, Dropbox, or Google Drive and send the link to our official email address along with your needs. However, if you have photos larger than 500 GB, you must contact us to have access to our FTP server.
Is free trial facility available?
We offer a free trial for two images to judge the quality and service You can judge the quality of our service by submitting a free trial before ordering. You can send us your example image so that we can show you the complete work as a demo.
Do I need to make a deposit?
No, you do not need to pay before submitting your final image. After submitting your final photos we will email you an invoice with a payment link. Then just pay.
What is your payment system?
We accept monthly payments from our regular clients. Every month, on the last day of the month, we will send an invoice with the specific (date, service type, amount, and price) of the job. Other clients must pay when the work is finished. Local bank transactions between the United States, the United Kingdom, and other countries are driven by a quick payment service network. We usually transfer master cards, credit cards, visa cards, American Express, and banks. We also pay PayPal, Payoneer, Xoom, Wise.
How we transfer photo / images?
You can send your photos using WeTransfer, Dropbox, Google Drive, or another file transfer system. By default, we will send your images using your transfer system.
Actual Client Testimonials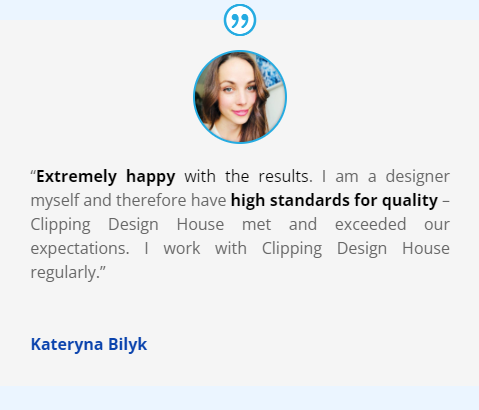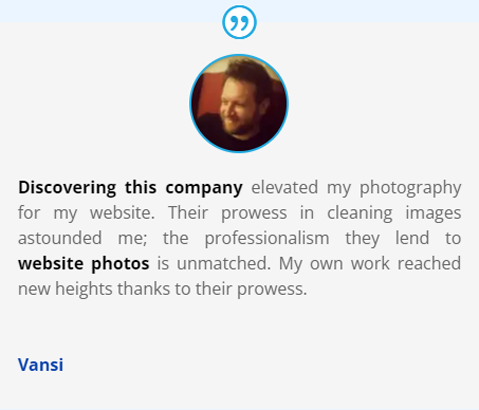 Get Your First Free Trial
We are now offering free trials to judge our quality and service. Send us 04 sample images and get the completed images within an hour.
Be sure to create a folder when you upload files, and the folder must be
compressed zip

, or rar.
Trust Clipping Design House as your reliable partner for image editing